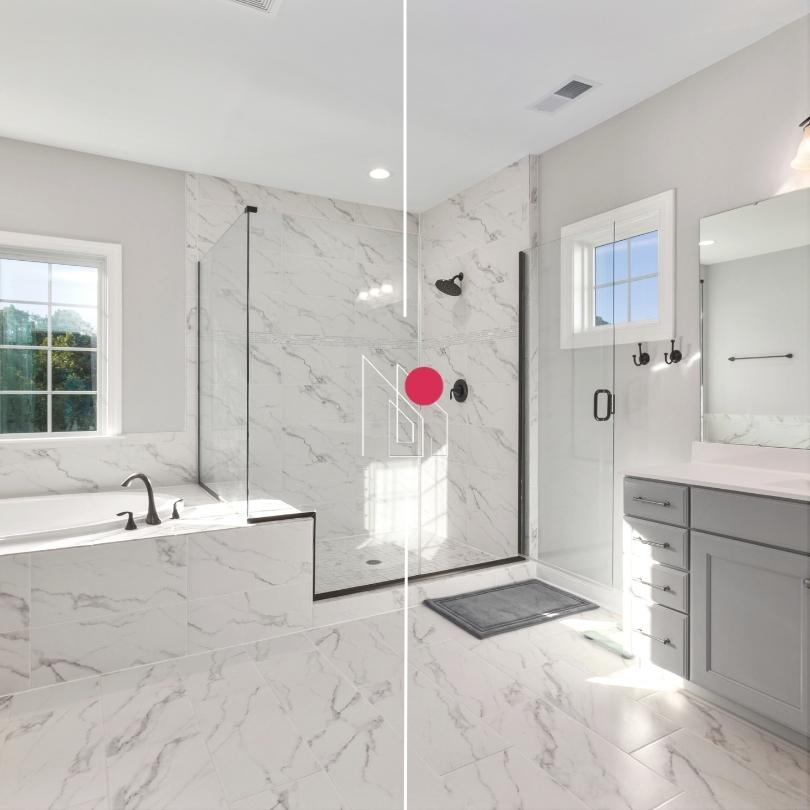 Home Bathroom in Bay Area
Are you tired of stepping into a dull and outdated bathroom every morning?
It's time to transform your space from drab to fab with the help of a bathroom remodeling service! Whether you're looking to enhance your personal oasis or add value to your home, a professional remodeling team can work wonders.
From luxurious fixtures and elegant tiles to innovative storage solutions and modern designs, they have the expertise to turn your bathroom into a showstopper. Imagine soaking in a sleek freestanding tub, surrounded by beautiful marble accents, or enjoying a refreshing rain shower in a spacious walk-in enclosure.
With their attention to detail and commitment to quality, a bathroom remodeling service can create a space that not only meets your functional needs but also exceeds your aesthetic expectations.
Say goodbye to your outdated bathroom and hello to a stunning sanctuary that you can't wait to show off to friends and family. It's time to indulge in the ultimate bathroom transformation!
Case studies of successful bathroom remodeling projects in the Bay Area
let's take a look at some real-life examples of before and after transformations
Budgeting for a bathroom remodel
Budgeting for a bathroom remodel can be a daunting task, but with careful planning and consideration, it can be manageable
The first step is to determine your budget and prioritize your needs and wants. Consider what aspects of your bathroom are most important to you and allocate your budget accordingly. It's also important to account for unexpected expenses and set aside a contingency fund. Research the average costs of materials and labor in your area to get an idea of what to expect. Additionally, consider the long-term value of your investment. While it may be tempting to cut corners and opt for cheaper materials, investing in quality fixtures and finishes can greatly enhance the overall value and durability of your bathroom. Lastly, don't forget to factor in the cost of hiring a professional remodeling service. While it may require a larger upfront investment, their expertise and craftsmanship will ensure a high-quality result that will last for years to come.
See our bathroom Remodel Projects
Frequently asked questions
about bathroom remodeling services
1. How long does a bathroom remodel typically take? The duration of a bathroom remodel can vary depending on the complexity of the project and the availability of materials. On average, a bathroom remodel can take anywhere from a few weeks to a few months.
2. Can I use my bathroom during the remodel? In most cases, you will still have access to a functional bathroom during the remodel. However, there may be brief periods where certain fixtures or areas of the bathroom are not usable.
3. Do I need to obtain permits for a bathroom remodel? The need for permits depends on the scope of the project and local building codes. A professional remodeling service will be able to guide you through the permit process and ensure that all necessary permits are obtained.
4. How much does a bathroom remodel cost? The cost of a bathroom remodel can vary greatly depending on factors such as the size of the bathroom, the quality of materials, and the level of customization. On average, a bathroom remodel can cost anywhere from $10,000 to $30,000 or more.
5. Can I make changes to the design during the remodel? It's important to finalize the design plan before the construction phase begins. However, minor changes and adjustments can usually be accommodated during the remodel, although they may impact the timeline and budget.
"We Remodeling your bathroom vision - let us bring your construction ideas to life."